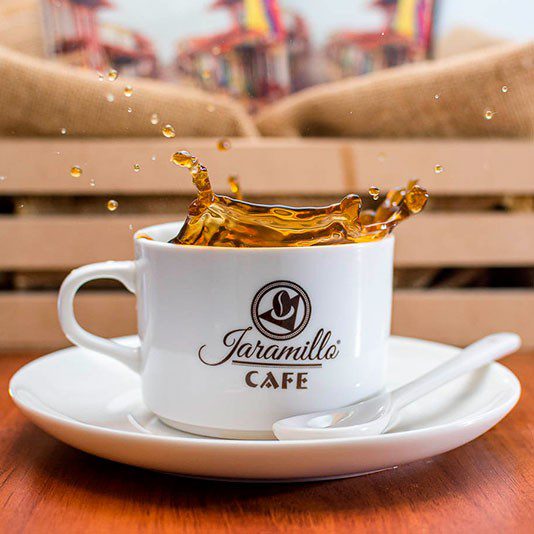 SINCE 1877
Five Generations of Coffee Expertise!
Jaramillo Cafe® is grown in the core of the most famous coffee growing region of South America, the Coffee Triangle.
According to the UNESCO World Heritage List, this is the heart of Colombia where the Coffee Region expands to 6 farming landscapes, 18 urban centers, 47 municipalities, 3 major Colombian cities in the departments of Caldas, Risaralda and Quindio. It is this region that is symbolic in the Jaramillo badge design, the traingle representing the Geography of this special location.
Throughout this region international tourists can taste the richness of the coffee beans and enjoy the breath taking views of the surroundings and exploring the further-flung reaches of the Coffee Triangle, such as the beautiful Cocora Valley.
Between the towns of Pereira and Armenia. the best place to see Colombia's national tree, the slender and tall Quindio Wax Palm. This tree is unique in this part of the world and is iconic in its visual relationship with true Colombian coffee.
TRADITION
Our heritage!
Eliseo Jaramillo picked his first coffee berry in 1877, on the farm where he was born.
A true family business where expert knowledge and techniques have been handed down across the generations. Now it is the turn of Mauricio Jaramillo, the first of the family to bring these exceptional, flavoursome coffee beans to European shores.
Still using our secret roasting to please our customers, supplying with freshness, flavour, aroma and the best quality coffee.
AUTHENTICITY
Mountains of Flavours!
The elevation (height above sea level) that the coffee plants are grown has a significant affect the quality of the bean and taste. The family farms of Jaramillo Cafe® can be found at elevations of up to 1750m Above sea level.
At these altitudes the beans produced are naturally more hard, more dense, packed with natural sugars and sweetness. These are some of the most sought-after varieties of coffee bean and are generally regarded as some of the highest quality that can be sourced.
It is these unique growing conditions allow the plants to grow more slowly, with more natural drainage through the mountains. The extra drainage prevents the plants from soaking up as much water, growing causing the growth to be slowed and this produces a smaller, more concentrated red cherry from which the bean is harvested. The rich volcanic soil in these regions also contributes to the nutrients the plant receive, giving rise to a strong, robust and healthy coffee plant, which can produce beans of unrivalled flavour.